Skip to Content
Cedar Falls Venues
Sophisticated Spaces For Every Occasion
From intimate to extravagant, unscripted to rehearsed, and every gathering in between, our Cedar Falls venues elevate your vision to unforgettable heights. Mix, mingle, and connect in open air settings, witness imagination become reality in larger-than-life spaces, and focus fully on the moment, as we take care of every little detail—including customization, set-up, and A/V integration.
see the map
The Bien VenU Experience
14 Unique Venues
Subdividable Ballroom
Pre-Function Space
Four Outdoor Courtyards
Private Boardroom & Meeting Rooms
Seamless Load-In Via Garage Door
Room Rental Includes Set-Up/Tear-Down
World-Class Service
Expansive Parking Lot
Venues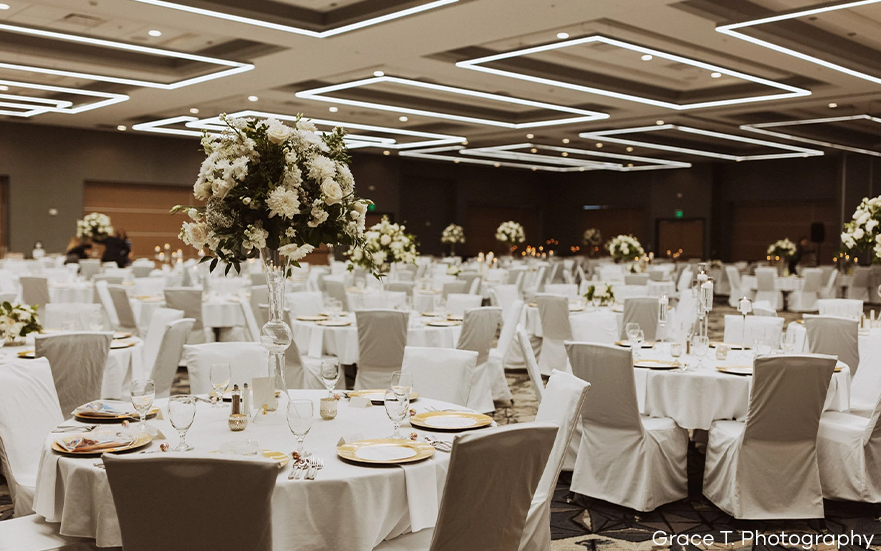 Grand Ballroom
An expansive, elevated space that can be seamlessly configured into six different layouts, the Grand Ballroom can serve as the backdrop for everything from breakout sessions to keynote speeches and company-wide vision casting events. Built-in projectors and oversized screens further blend form and function.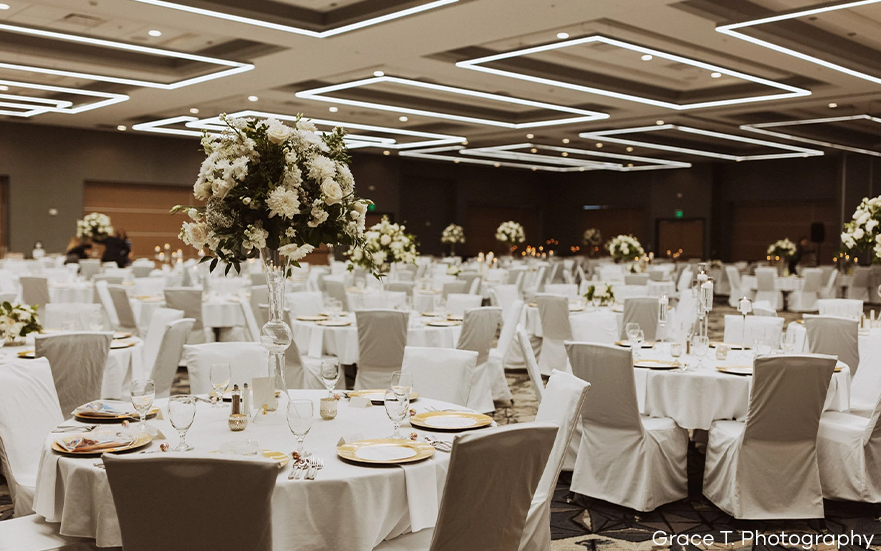 Room A
Compact, yet accommodating, Room A serves as an excellent breakout room or meeting area, thanks to its built-in projectors and screens. This space can be conveniently paired with Rooms B and C for larger gatherings.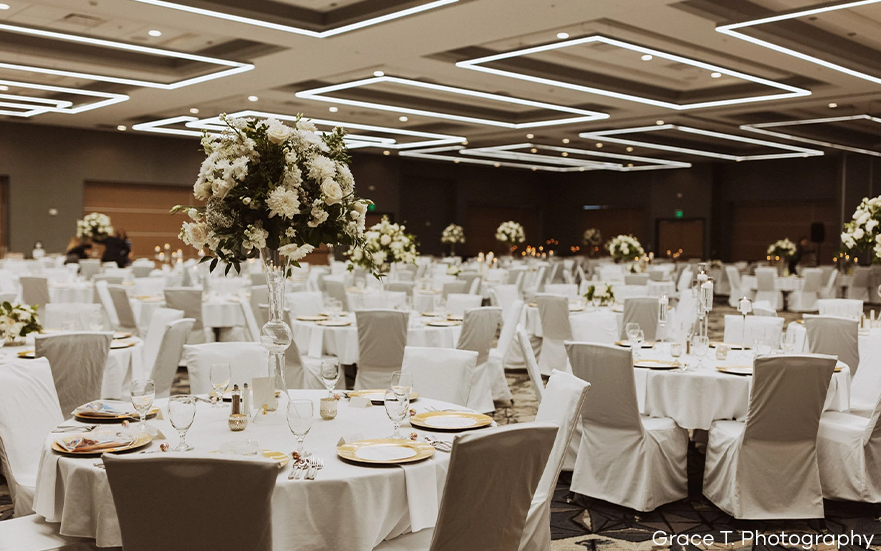 Room B
Intimate and versatile, Room B seamlessly integrates with Rooms A and C and is ideal for corporate meetings with up to 50 attendees or small weddings of 100 guests.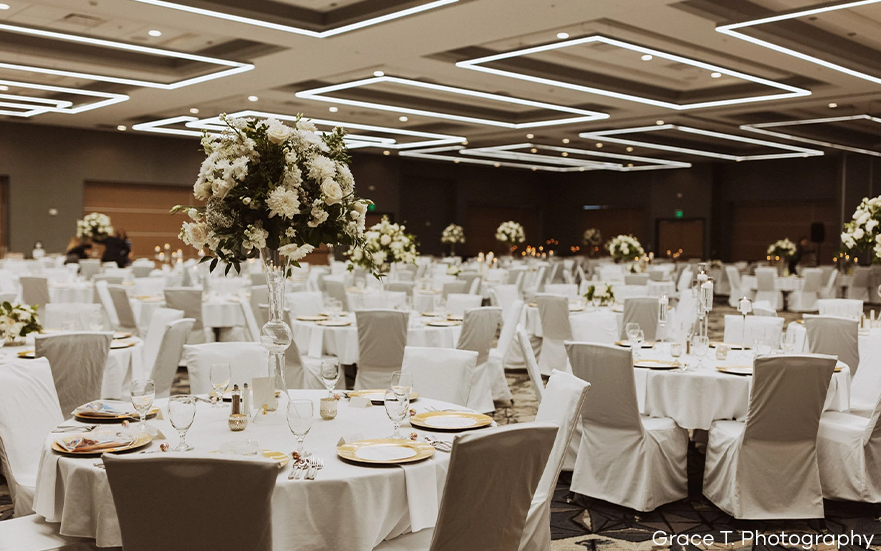 Room C
Dynamic and detailed, Room C excels on its own or when combined with Room A and B, which offers a flexible solution for larger events or even small wedding ceremonies.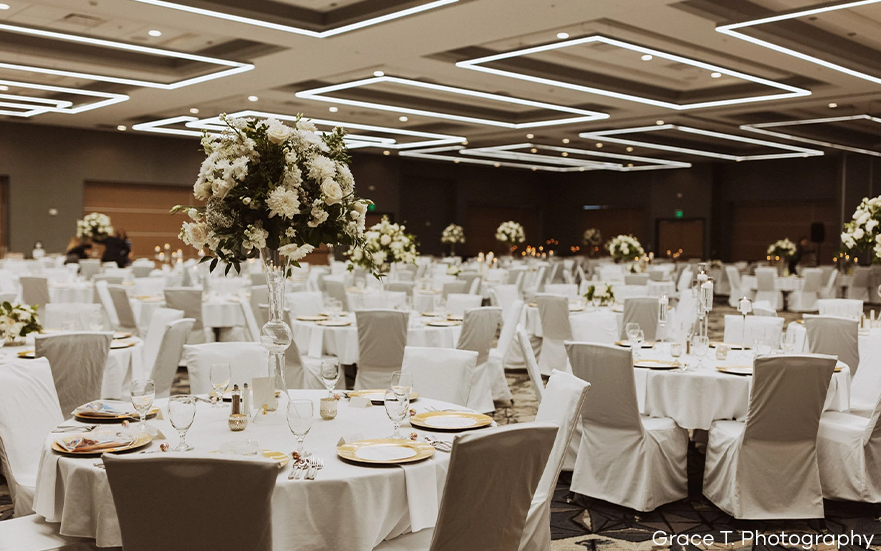 Room D
Our most expansive configuration, Room D shines as our go-to venue for large corporate gatherings and grand occasions. With dual projectors and screens, plus the option to join with other ballrooms, this arrangement creates an immersive setting for unforgettable experiences.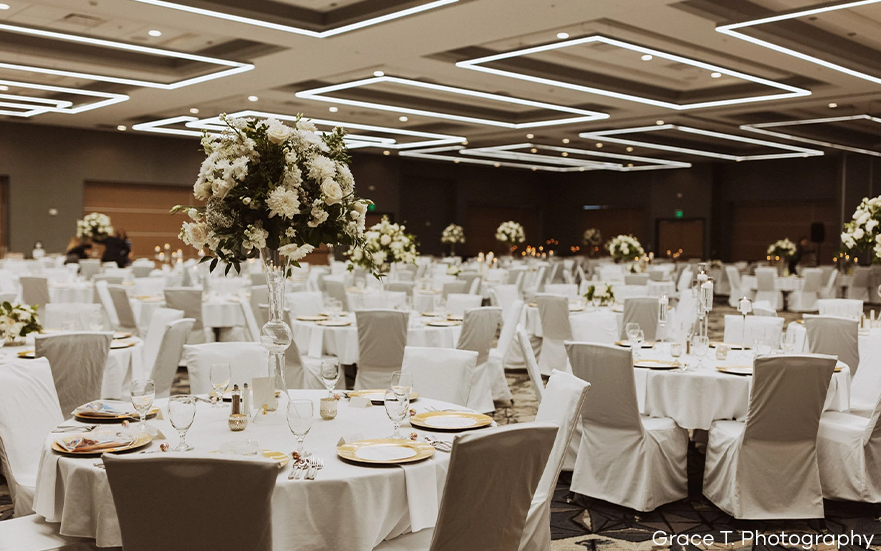 Room E
Designed for large-scale events, Room E can work in tandem with Room F, providing an inviting space for meals. Its generous proportions and adaptable layout cater to a range of agendas.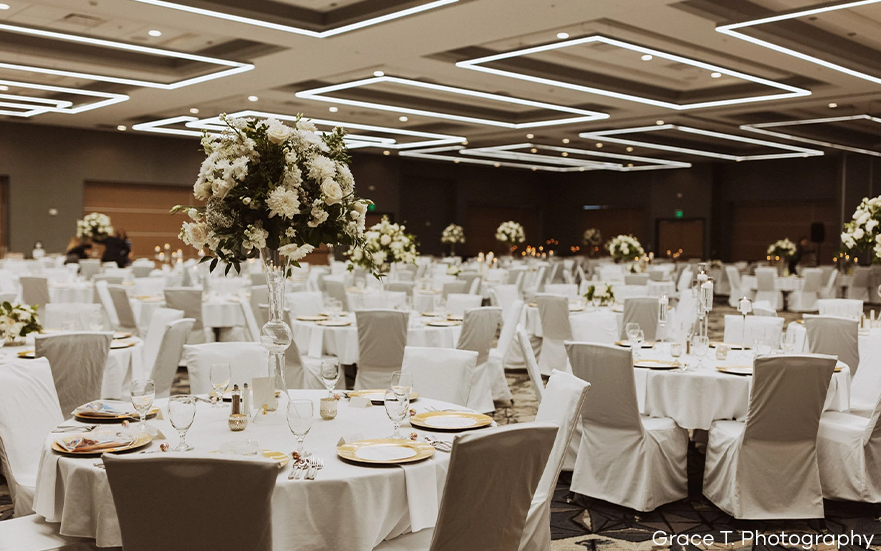 Room F
Featuring a built-in projector and screen, Room F is suitable for presentations and keynote speeches alike. Often paired with Room E for comprehensive event solutions, this room seamlessly blends functionality and comfort.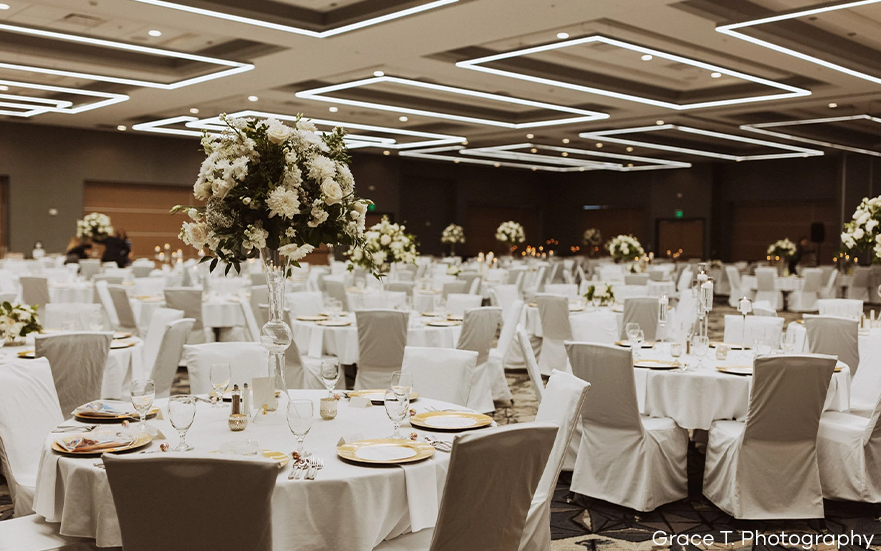 Pre-Function Space
Expansive, versatile, and stunning—the Pre-Function space can serve as either a welcoming pre-function space or an entertainment area all its own and features seamless connection to outdoor spaces for buffets, cocktails hours, and more.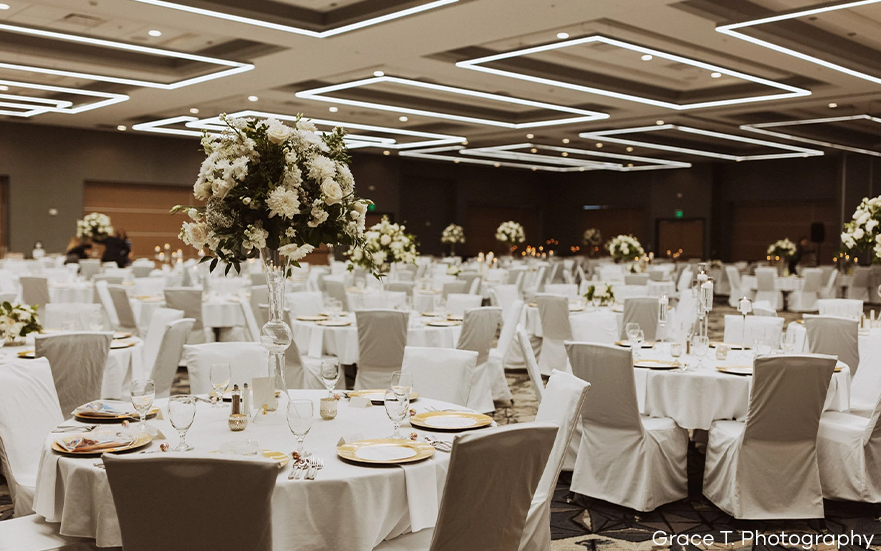 The Garden Patio
A beautiful outdoor escape, our Garden Patio provides a refreshing ambiance for receptions, cocktail hours, or just a break from your event. Its lush surroundings offer a tranquil oasis amidst the bustle.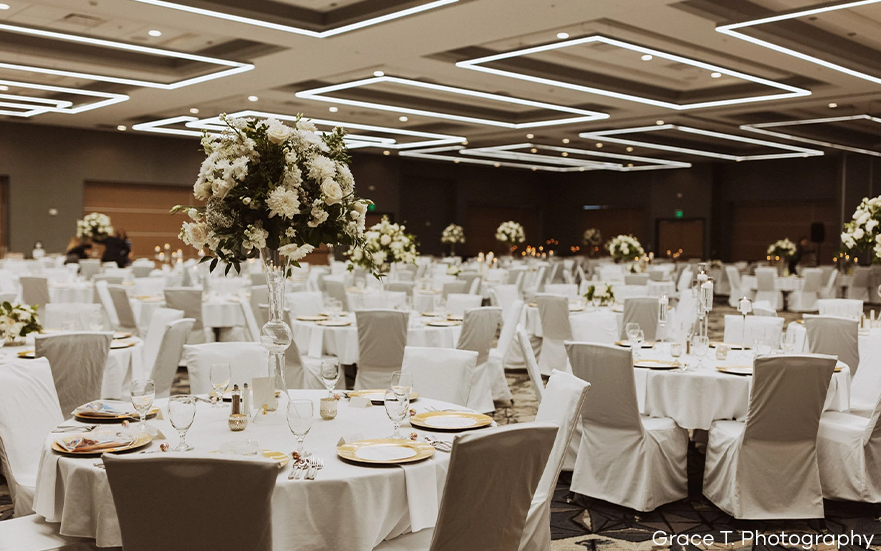 The Plaza Patio
Embrace the outdoors with our Plaza Patio. Its ample space and fresh environment offer an enchanting setting for receptions, cocktail hours, or as a unique outdoor meeting space.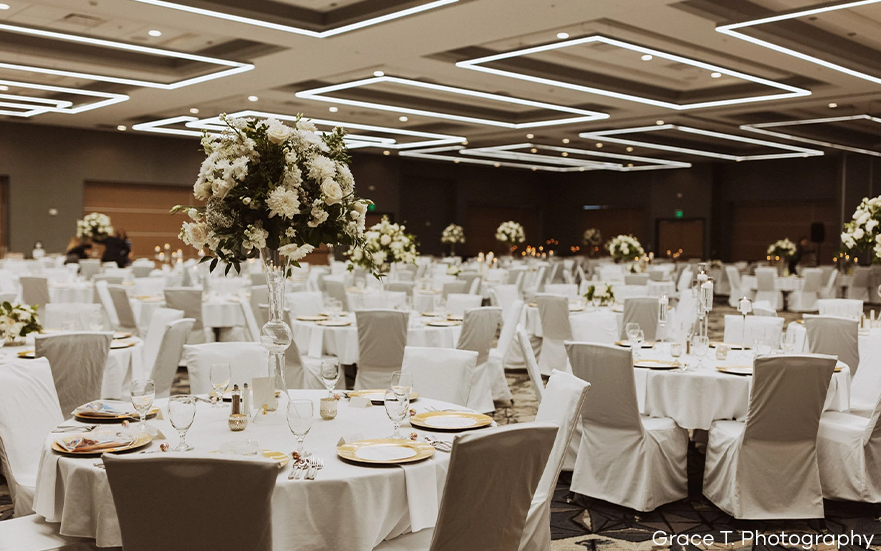 The Terrace Patio
An outdoor haven, the Terrace Patio offers a serene atmosphere for relaxed social gatherings, al fresco dining, or post-meeting unwinding. Its intimate setting complements any occasion, fostering a feeling of relaxed sophistication.
Hotel Patio
A charming extension of our event center, the Hotel Patio presents a laid-back space perfect for unscripted meet-ups or breaks between sessions.
Hotel Concierge Lounge
The Hotel Concierge Lounge adds an extra level of luxury and convenience to the guest experience, offering a private haven where guests can unwind, socialize, and gather.
Hotel Meeting Room
The Hotel Meeting Room is the proper space to host team meetings, discuss creative ideas, and collaborate on projects with it's spacious "U" shaped table.
Hotel Boardroom
With a classroom style configuration, the Hotel Boardroom is an ideal space to host presentations, training sessions and corporate meetings.
Compare Capacities
Meeting
Room
Area (Sq. Ft.)
Dimension
Reception
Banquet
Theater
Classroom
Indoor
Outdoor

Grand Ballroom

14,000

150' x 96.5'

1000

850

1000

576

X

Room A

1,300

43' x 33'

160

48

150

48

X

Room B

1,300

38' x 32'

160

48

150

48

X

Room C

1,300

43' x 32'

160

48

150

48

X

Room D

6,000

64' x 96'5

750

430

700

288

X

Room E

2,050

49' x 48'

250

72

250

72

X

Room F

2,050

43' x 48'

250

72

250

72

X

Prefunction

9,000

450' x 20'

1757

-

-

-

X

The Garden
Patio

6,500

142' x 83'

800

350

400

N/A

X

The Plaza
Patio

5,000

115' x 46'

500

300

250

N/A

X

The Terrace
Patio

4,000

99' x 88'

400

225

250

N/A

X

Hotel Patio

3,800

63' x 45'

400

150

200

N/A

X

Hotel
 Concierge Lounge

875

50' x 14.5'

60

-

-

-

X

Hotel
Meeting Room

630

26' x 25'

-

-

46

20

X

Hotel Board
Room

620

25' x 25'

-

-

-

25

X